Aceite de Oliva Virgen Extra Monovarietal
THE LEGEND OF PEÑA LUNA
Érase una vez una bellísima princesa que vivía en un castillo llamado Castillo de la Luna. Cuando anochecía, se alzaba altanero sobre su loma, y sus paredes de caliza blanca, brillaban y lucían como la mismísima luna. Al amanecer, una alfombra de amapolas y campos de cebada cubrían las tierras que lo rodeaban. Sin embargo, a pesar de tan bello paraje y de las riquezas de las que disfrutaba, aquella princesa era muy desdichada.
Hojiblanca variety
Tasting Note
A very balanced aove. On the nose it reminds us of leaves, tropical fruits, tomato and artichoke. On the palate, the leaf and artichoke stand out with a very balanced spiciness and bitterness.
Food pairing: It goes great with salads, pasta and risottos.
Arbequina variety
Tasting Note
This oil is complex on the palate and harmoniously combines aromas of fresh and dried fruits. It has a subtle flavour of apple, tomato, green banana and fig.
Food pairing: White fish, marinades, salads and pastries.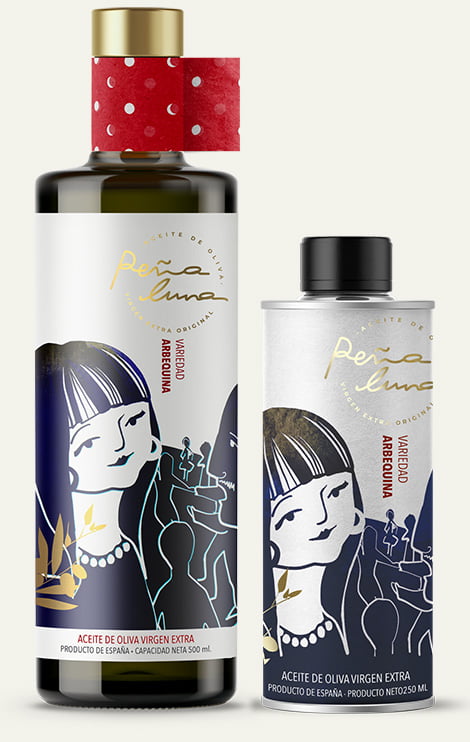 Una noche, los padres, para intentar animar a su única hija, organizaron una magnífica fiesta en el castillo a la que asistieron gentes vecinas y hasta del lejano oriente. La princesa bailó, conversó y rió durante toda la noche, pero algo en su interior le oprimía el corazón tan fuerte que no la dejaba disfrutar plenamente.
Organic - Hojiblanca Variety
Tasting Note
Fruity of green olives of medium-high intensity, and aromatic notes of freshly cut grass, wild plants and vegetables. Tomato, green grass and artichoke appear. Progressive bitterness and spiciness. It has a pleasant persistence, it is a very aromatic and balanced oil.
Pairing: It is a delicious oil to consume raw at breakfast and snacks with traditional breads.
Formato disponible: Botella Cristal 500ML
Variedad Koroneiki
Tasting Note
The nose detonates wild flowers, dried fruits, pepper and Japanese citrus yuzu. On the palate is more spicy than bitter, with a hint of hazelnut and fennel.
Maridaje: Es ideal para ensaladas, marinados de salmón, atún o anchoas. También con tartar de salmón, atún, lubina y ceviches.
Al final de la noche, cuando la princesa se despedía de todos los invitados, un hombre apuesto, moreno y de grandes ojos verdes cogió su mano y, mirándola fijamente le dijo: te necesitamos, ayúdanos… para desaparecer después entre la multitud. Aquella princesa triste se quedó confundida y sintió la necesidad de encontrar aquel hombre para descubrir lo que tanto le atormentaba. Pasaron horas, días y meses, pero por mucho que buscaban, nadie conocía el paradero de aquel misterioso personaje.
INFÓRMATE DE NUESTROS ESTUCHES, PODRÁS
COMBINARLOS COMO MÁS TE GUSTEN